Life in the city can be exhilarating - it feels like it doesn't stop. For all the fun and adventure, getting crammed into an overcrowded train and paying sky-high commuting prices can be frustrating, while walking, for all of its benefits, can be impractical.
Even cycling a standard bike can be tricky, particularly if you need to combine it with other transport and lock your bike up on the street, risking it being damaged.
That's exactly why Brompton founder Andrew Ritchie invented his first folding bike prototype in 1975, searching for an easier solution to urban travel.
Folding bikes are a solution to all of these problems and at the same time, open up a world of opportunity and adventure as well as enhance your day-to-day navigation of the city streets.
Brompton's signature folding bike design has been achieving this for over 40 years, and it continues to make the best folding bikes in the world - folding down into a small compact package that stays locked together in under 20 seconds.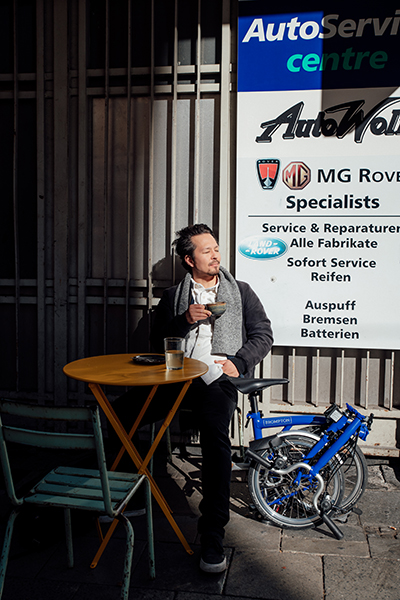 The history of folding bikes
The history of folding bikes dates back long before Andrew Ritchie was painstakingly engineering a prototype in his London flat overlooking the Brompton Oratory. In fact, since the genesis of the bicycle, people have been looking to find ways to make it, perhaps not foldable, but much more portable.
The folding bike, as we recognize it now, emerged from an increasingly urbanized and modern working world of the mid to late 20th century. Finding a way of taking a bike on the train, getting across a short distance in the city, the ability to carry and store your bike inside: the emerging challenges of urban travel then are still around today, and the folding bike remains an ideal answer to all of them.
Brompton's evolution from a fledgling start-up into an established business in the late 1980s and early 1990s began the folding bike's trajectory into the mainstream, creating a ride that was not only practical but incredibly fun.
The Brompton folding bikes have come a long way since Andrew Ritchie hand-made each one himself, and since the first Brompton factory opened on Bollo Road in Brentford.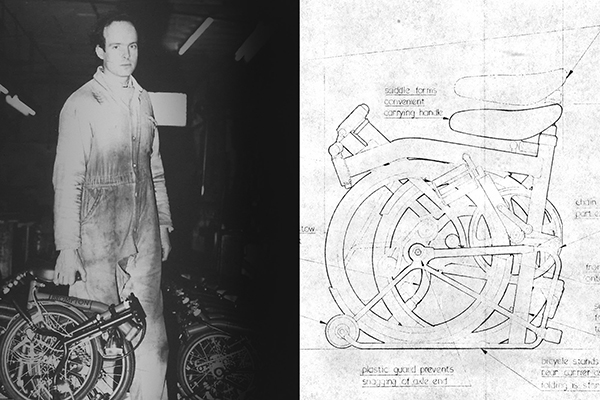 The essence of the bikes remains the same, with every bike maintaining the iconic frame shape. Their development in the last two decades has meant a bigger range of materials are being used to create even more versatile and portable folding bikes, from a one-size-fits-all spec, to ultra lightweight TIG-welded titanium frames. There's now even electric folding bikes available to dish out an extra boost wherever you're heading.These strides forwards mean now, more than ever, folding bikes are an accessible and viable, time-saving alternative to other modes of urban transport, as well as a friendly environmental choice.
How fast are folding bikes?
Folding bikes come with much smaller wheels than you'll find on standard bikes mainly, of course, to allow them to fold more easily and be more compact. The other benefit of small wheels you may not have realized is how well they accelerate. If you've ridden around a city during rush hour before you'll know just how often you'll be stopping and starting. This is where folding bikes come into their own, as small wheels get going much more quickly from a standing start, therefore costing you less energy when you're getting from place to place. When you reach where you're going, you'll be able to fold your Brompton in as little as 20 seconds and be on your way.
Riding these 16-inch wheels is a thrill once you've got the feel for it, but if you're coming from a standard bike to a folding bike you at first may notice that the handling of smaller wheels is slightly more sensitive (particularly at speed) and that the impact of potholes or road cracks can feel bigger when you hit them. These little wheels are double-walled though, so are super-strong, durable, and long-lasting.
Another advantage the wheels and the compact size of a folding bike provide is extra nimbleness and maneuverability, helpful for those occasions when you need to squeeze past the stationary traffic. Likewise if you take a wrong-turn, there's no cumbersome stopping and turning around like you would experience on your regular bike. Brompton folding bikes have a small turning circle and are easy to steer and get going again; a great advantage on the tight city streets.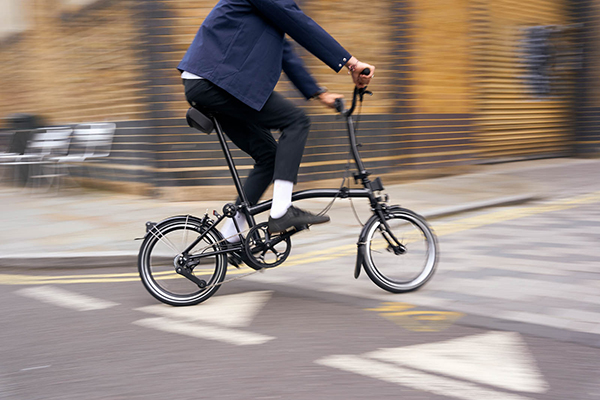 Gears on folding bikes are intentionally bigger to compensate for the smaller wheels, but the gearing on offer for folding bikes now opens up a lot more possibilities than it did before. The Brompton folding bike range has models with gearing from single-speed all the way up to six-gear. If you know you're riding on entirely flat terrain you can probably consider a single-speed or dual-speed, with the added benefit of making the bike lighter and the setup simpler. Dual-speed is a good option to give you a lighter gear to get going from a standing start and a heavier gear for when you're up to cruising speed.
The Brompton folding bikes with three, four, and six gears will allow you tackle tougher terrain on your routes, which is particularly useful if you live on the hilly side of town.
Hills? On a Brompton?! It's possibly not what everyone thinks initially when they think about folding bikes but yes, folding bikes can go up hills. The superlight compact gear available on the Brompton Electric P Line, would be enough to take you over any contour the cityscape throws at you.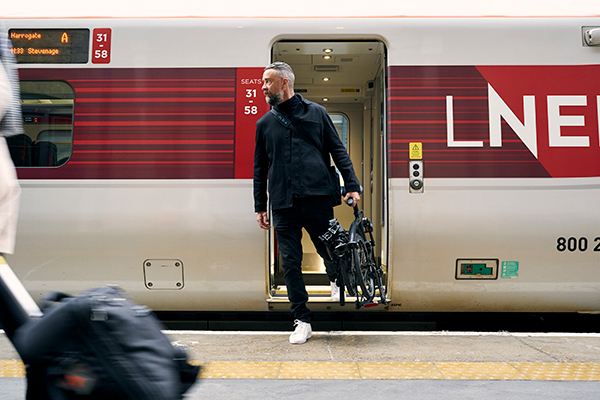 The six-gear option on Brompton C Line lets you take your Brompton folding bike further afield as well for adventures that might take you along more varied terrain. The extra gears offered get you up the steepest of inclines, as well as allow you to load up with luggage in a Brompton bike bag and take off on any exploration. 
What can you do with a folding bike that you can't do with a full size bike?
The simple answer is, a lot! Full size bikes, as great as they are, can pose a few conundrums in the city. Will you be able to lock your bike up and keep it secure at your location? A folding bike makes it simple to head anywhere on two wheels, safe in the knowledge you can quickly fold it up and walk it in with you.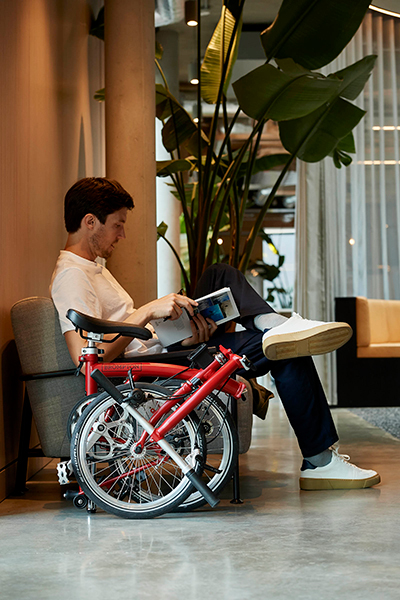 A Brompton folding bike is compact enough that you can fit under your desk at work, and light enough that you can easily carry it on a busy train or tube without booking, or jump in a taxi if your plans change. Fold it up in 20 seconds and you can head straight into the supermarket or cafe and go about your day without having to think twice. Many of us who live in the city struggle for space. Anyone in an apartment will know the pain of having to squeeze past a bike left in the hallway, but a folding bike tucks neatly next to a shoe rack.
Every kind of bike can give you the freedom to ride and roam wherever you want, but a folding bike combines that with the functionality to adapt to you, your day and your plans, rather than the other way round.
A folding bike is a perfect travel companion when you're heading overseas. What better way to see a new city? Brompton's folding bikes are compact enough that you can easily take them to the airport and load them on a plane as you would any other luggage. In some cases you can even take your folding bike on as carry on luggage.
You'll need to package your bike suitably to put it on the plane. Brompton offers a four-wheeled padded folding bike bag as part of the accessories range which not only does this perfectly, but makes traveling anywhere easier.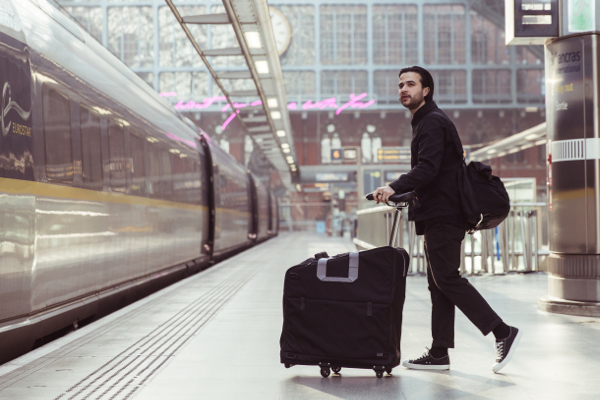 Speaking of accessories, the entire Brompton bag range is designed to click easily to the front of your bike. Big or small, these bags are a massive advantage over a standard bike, allowing you to ride free of a backpack and avoid getting that sweaty back before you've made it to your destination.
Best folding e-bike
E-bikes have soared in popularity in recent years. They make traveling, commuting, and riding easier and more accessible to everyone, and provide a low-impact alternative for people to get around and explore. They also mean you can get where you're going without getting a sweat on!
Brompton's first folding e-bike was released in 2017, having partnered with Williams Advanced Engineering to create a motor and bike that was still as portable as ever, but gave riders that extra boost to really go anywhere.
Lighter. Faster. Even more portable. The latest Brompton Electric P Line model is the best folding e-bike yet and the lightest Brompton Electric bike ever, featuring Smart Pedal Assist that knows when you need a helping hand and automatically kicks in. All of Brompton's folding e-bikes have four power modes, ranging from Mode Zero (so no assistance at all), to Mode Three, giving you the strongest boost for when you're faced with hills or headwinds. Brompton recommends Mode Two as the most useful for the majority of riders, preserving a bit more battery than mode three but giving you that helpful boost across rolling terrain and from a standing start.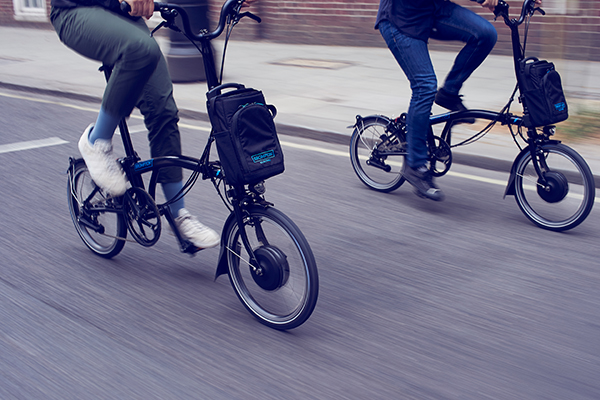 The stand-out feature of Brompton's e-bikes is really how compact they remain compared to others, despite the motor and battery. The 300wh battery is handily stored in a bag on the front of the bike and, weighing just 2.9kg, is easily removable so you can take it with you to charge before your next ride. That means it provides the boost you're after but still folds up so you can store it under your desk or carry it on the train. The battery pack even has a USB port, so you can charge your phone or laptop as you're on the go.
The Brompton e-bike has a range of 20-45 miles depending on usage, and comes in Urban (two gears) and Explore (six-gears) models. So you can choose a model for the city, or choose a model that combines the best of both and gives you the freedom to take your e-bike out of town for some proper exploring.
Ready to hit the road and explore the world on two wheels? Take a test ride at a Brompton retailer near you, or check out our range of Brompton folding bikes available online.