In November 1962, the then 22-year-old Stücke left his job as a tool and die maker and rode out of his hometown on a three-speed bike, with a dream to explore the world on two wheels. He traveled for 50 years visiting 196 countries, collating 21 passports, covering 648,000km (60,000 on his trusted Brompton) and collating 100,000.
During his travels, Stücke encountered many obstacles and near-death experiences, which saw him hit by a truck in Chile's Atacama Desert, chased by an angry mob in Haiti, attacked by bees in Mozambique, detained by the military in Cameroon and losing his bike in Siberia before having it stolen in Portsmouth. Stücke's extraordinary desire to travel the world was partly motivated by his aversion to returning to factory work in his native Germany. Heinz was declared the most well-traveled man on earth by the Guinness Book of World Records!
60,000km of Heinz's trip was spent on a Brompton, it's compacted fold perfectly into his to connect his travels by air, sea, and train. Off the back of this Brompton worked closely with Heinz to produce a book containing diary extracts and thousands of photos from the last 50 years. This book is The Home Is Elsewhere: 50 Years Around The World By Bike.
To give you a taste of the book you can read a small extract with some imagery below:
The Danger - Pages 56-57
'I had lots of brushes with death'
Anyone traveling for 20,000 days, in numerous different locations and often completely alone, is clearly not going to be safe all the time. Heinz had some pretty scary moments. He says he counts himself lucky.
Discomfort, annoyances, setbacks. To a certain degree, these are all part of traveling, according to Heinz. But the attack in South Africa really scared him. 
Booklet: around the world by bicycle, South Africa, Brompton trip Africa, 2012 
In the seven days before the flight back to London I cycled around the lovely vineyards around Cape Town. This came to a brutal halt near Paarl, where I was violently attacked in broad daylight. I was robbed. My teeth were smashed, my arm dislocated – I wasn't just handing over my stuff. The location was relatively busy, so the robber was in a hurry to take what he could. Luckily the Brompton front bag with my most cherished and important possessions wouldn't come off thanks to the hidden click lock. The thief settled for the backpack which he managed to rip off and disappeared into the bushes. I ran to the road and stopped a car. The driver called to police. I spent the night at the police station of Paarl.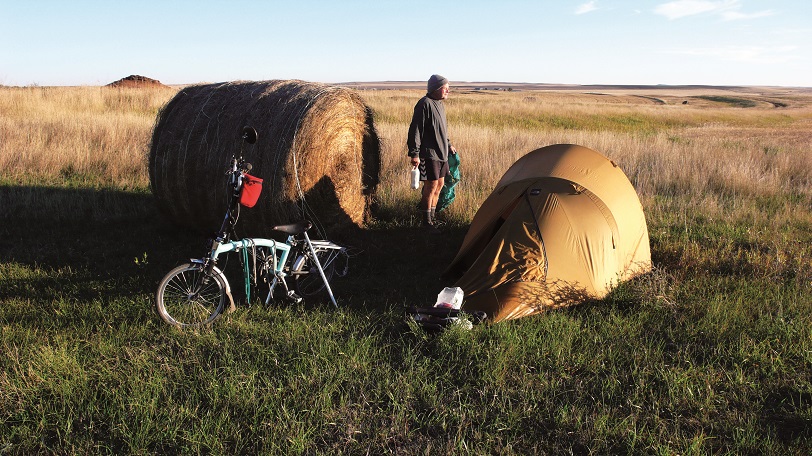 Heinz still suffers pain in his shoulder from time to time. He comforts himself with the thought that it could have been a lot worse. Like the time before, in Zambia in 1980. He was really saved that time, albeit after he'd been shot in the foot.
Booklet: around the world by bicycle, Zambia, 1980
The most dangerous moment probably came in Zambia when four of Nkomos 'Freedom Fighters' stopped me on the road near Rufunsa, 155 kilometers east of Lusaka. One of them pointed his AK47 in my direction and pulled the trigger. The bullet went through my right foot big toe. I didn't feel any pain. They ripped my things apart and stripped me to my underpants, threatening to shoot me. Luckily only a little later a German working for the Zambian government passed by, and he heard me shouting: 'I am a tourist, the German embassy please!' When the fighters pointed their guns at him too, he sped away – his wife and children were in the car too. But soon he came back with five Zambian policemen. My rescuer, Herr Buttner, later took me to Lusaka. I spent ten days recuperating in his beautiful home.